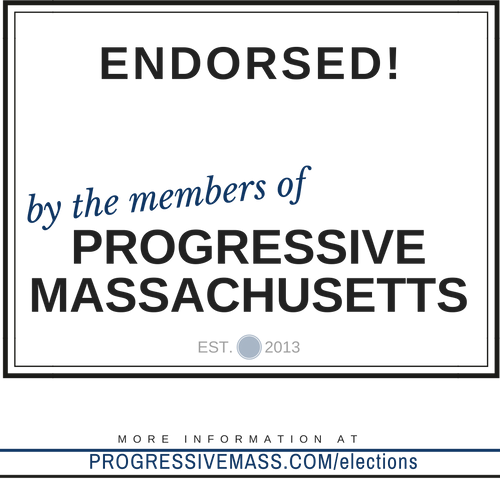 Elections matter. Our ability to make progressive change in Massachusetts depends on our electing progressive champions to office -- every office.
In particular, primaries matter.
Whether you're electing ousting a conservative or passive incumbent (of either party) or electing a real champion in an open seat (replacing a retiring one or getting a real progressive upgrade), primaries can send a powerful message.
Massachusetts's state primary is Tuesday, September 4th. Help us send such a message.
CONGRESS
MA-01: Tahirah Amatul-Wadud
MA-07: Ayanna Pressley
DISTRICT ATTORNEY
Suffolk County DA: Rachael Rollins
Middlesex County DA: Donna Patalano
Berkshire County DA: Andrea Harrington
MA SENATE
First Middlesex: John Drinkwater
Hampshire, Franklin & Worcester: Chelsea Kline
Norfolk, Bristol & Middlesex: Becca Rausch
Second Essex & Middlesex: Mike Armano
Hampden: Amaad Rivera
Fifth Middlesex: Sam Hammar
HOUSE
1st Barnstable: Steve Leibowitz
2nd Bristol: Jim Hawkins
14th Essex: Christina Minicucci
1st Hampshire: Lindsay Sabadosa
2nd Hampshire: Marie McCourt
6th Middlesex: Maria Robinson
15th Middlesex: Mary Ann Stewart
19th Middlesex: Erika Johnson
23rd Middlesex: Sean Garballey
28th Middlesex: Gerly Adrien
30th Middlesex: Darryn Remillard
36th Middlesex: Sabrina Heisey
15th Norfolk: Tommy Vitolo
7th Plymouth: Kevin Higgins
9th Suffolk: Jon Santiago
15th Suffolk: Nika Elugardo
Read more about the candidates at https://www.progressivemass.com/2018legislative-primaries.