Joe Biden is running for president. Please donate to help Vice President Biden and the Democrats defeat Trump and the GOP in 2020.
For Democrats, it's great news that Joe Biden is running. Not simply because Biden has been great on so many progressive issues long before their time (more on that below), but also because Biden consistently polls better than his Democratic primary competitors, and he also polls better than Donald Trump.
Biden Still Ahead in the Polls
Biden is back up in the latest CNN poll, beating runners-up Bernie Sanders and Elizabeth Warren by double-digits.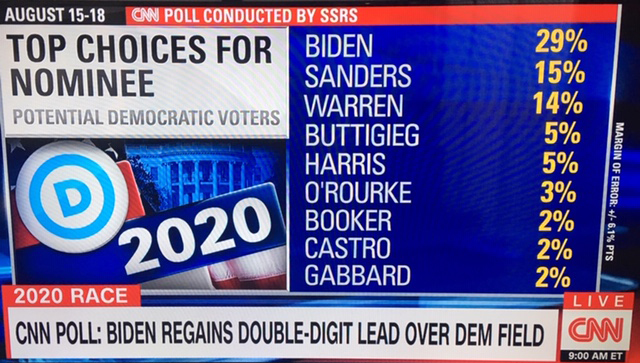 And the same poll shows that support for Biden just surged in the past two months (from June to August):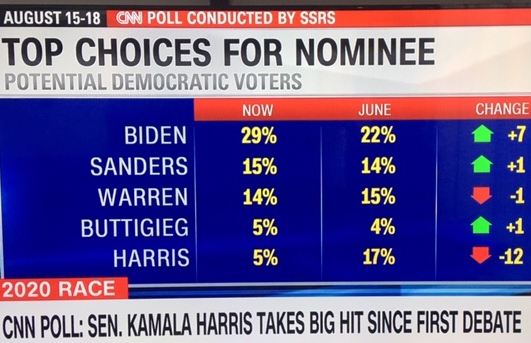 Biden is also ahead of the other candidates in a poll of black voters.
You can watch a video report on the CNN poll here.
And even among self-proclaimed "liberal" voters, Biden ties Bernie Sanders and Elizabeth Warren, who you might expect to be Biden among liberals by wide margins.
Biden is also doing great in the early primary states, beating Kamala Harris (who's in second place) in Iowa, 24% to 16%; and beating Harris and Bernie Sanders (both tied for 2nd) in New Hampshire, 24% to 19%.
And even more importantly, Biden is still beating Trump by a larger margin than the other Democratic candidates. In the latest Quinnipiac poll, Biden beats Trump by 54%-38%, that's a whopping 16 points!
Nate Silver of 538 says that Biden is the Democrat to beat, as Nate thinks Biden has the best chance of winning the Democratic primaries.
Biden on the Issues, a Cutting-edge Progressive
Polls aren't the only reason to vote for Joe Biden. Biden is a solid progressive who often comes out for cutting-edge liberal proposals before their time. Biden is pro-choice and drafted the Violence Against Women Act. He's great on climate, opposes drilling in ANWR, and introduced Congress' first-ever climate bill all the way back in 1986. Biden is anti-gun, pro-union/worker, and supported a $15 minimum wage in 2015 (before it was cool). In that same year, Biden also came out in support of free college (again, before it was cool), and has a 91% voting record from the National Education Association.
In characteristic fashion, Joe Biden famously came out in favor of same-sex marriage while Vice President -- even before his boss, President Obama. Biden's move put pressure on Obama to finally come out in favor of gay marriage, which was a huge victory for LGBT people.
There's a reason Joe Biden polls so well among his fellow Democrats, and against Donald Trump -- he's that good, with a lifetime of experience to bring to the job.
Can you chip in to Joe Biden and AMERICAblog Action's work to elect a Democratic president and Congress in 2020?