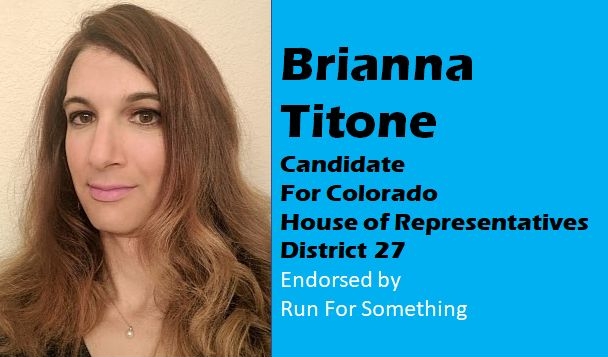 Run For Something is fantastic organization and they were the first organization to endorse me. I am so thankful to be part of their ticket or fantastic candidates.
Please help reach the voters in Colorado House District 27 by making a contribution. I am working extremely win the election. I'm out every day learn the issues of the voters, supporting causes, and testifying on bills that I believe in and are the right things to do. I will support work toward affordable healthcare, funding for public schools, promote firearm safety measures, and transportation initiatives.I'm also a trans woman looking to be elected as the first openly trans person to be elected in Colorado, and the second to be elected for state office in the country.
I have a genuine desire to do good things for people and have a proven track record that shows this. As an elected official, I will continue to show up and support causes, movements, and interactions. I will listen and hear the voter's concerns and act on them.
Thank you for your support today!
Disclaimer:
During the regular Legislative session, from January 13 - May 11, 2018, I can not accept donations from a Lobbyist or Principals of Lobbyists. If you are a Lobbyist, please donate after the regular Legislative session.
Campaign finance limits are $400 per election cycle.