Reactivate lapsed voters
Every election cycle there are Democrats and Democratic-leaning independents that forget to vote.
The California Away Team's GOTV model was tested in the 2018 election and raised voting rates by as much as 10% in some areas for universes of inconsistent voters. For the 2020 cycle, we have projects starting or underway in three counties: El Dorado County, Calaveras County, and Placer County.
Each re-activated voter costs about $1.81 in printing and postage. Our goal for the whole cycle is $9,000, but we have a $4,000 matching grant, so they'll give us $1 for every $1 you give.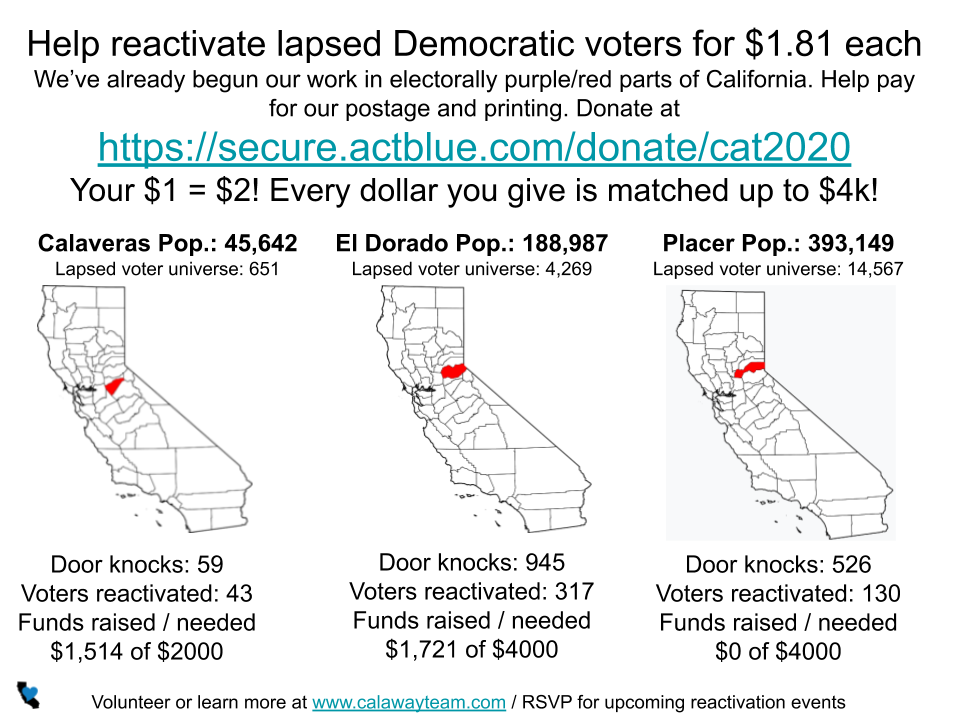 The absolute latest report card is at www.calawayteam.com
Contribution rules
I am a U.S. citizen or lawfully admitted permanent resident (i.e., green card holder).
This contribution is made from my own funds, and funds are not being provided to me by another person or entity for the purpose of making this contribution.
I am making this contribution with my own personal credit card and not with a corporate or business credit card or a card issued to another person.
I am at least eighteen years old.
I am not a federal contractor.
The California Away Team does not handle your contribution it gets divided into parts and is sent straight to the parties.