Stand with Desert Progressives Indivisible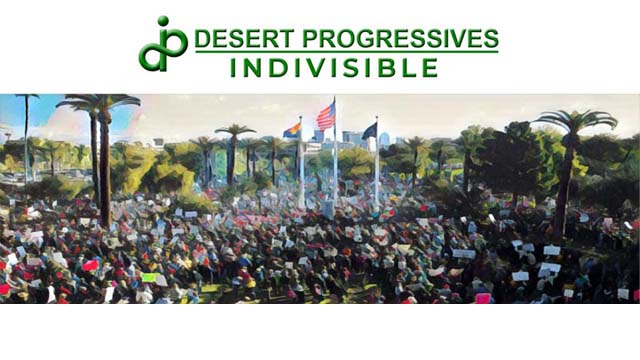 Every part of our country is under threat by this President and Congress. The only way to win is by standing together, Indivisible.
Desert Progressives Indivisible is one of 6,000 grassroots Indivisible groups across the country taking action to elect leaders who will energetically champion social justice and the rights of all people.
We are completely volunteer run. If you have the time, energy and moxie, you're most welcome to participate in any number of our activities. And if you don't have the time, you can amplify your voice with a monetary donation. Either way, your contribution will support our dynamic activism right here in Phoenix -- as we work for:
affordable health care,
quality public education,
a welcoming and fact-based immigration system,
women's rights,
racial justice,
a clean and safe environment
and more....
Contribute today to Desert Progressives Indivisible. Stand together and we WILL win.
Contribution rules
ActBlue Civics is a registered charitable organization formed to democratize social welfare giving. A copy of our latest financial report may be obtained by emailing info@actblue.com or calling (617) 517-7600. Alternatively, our report detailing our programs, a financial summary, and the percentage of contributions dedicated to our purpose, along with a copy of our license, may be obtained from the following state agencies: FLORIDA (registration #CH48620) -- Division of Consumer Services 800-435-7352 www.800helpfla.com; GEORGIA (registration #CH012404) -- contact ActBlue Civics; MARYLAND (registration #32940) -- Secretary of State, State House, Annapolis, MD 21401; NEW JERSEY (registration #CH3992100) -- Attorney General, 973-504-6215, www.state.nj.us/lps/ca/charfrm.htm; NEW YORK (registration #45-70-70) -- Attorney General, Charities Bureau, 120 Broadway, New York, NY 10271; NORTH CAROLINA (registration #SL010079) -- State Soliciting Licensing Branch, 888-830-4989; PENNSYLVANIA (registration #106113) -- Department of State, 800-732-0999; VIRGINIA -- Office of Charitable and Regulatory Programs, PO Box 1163, Richmond, VA 23218; WASHINGTON (registration #38989) -- Secretary of State, Charities Division, Olympia, WA 98504-0422, 800-332-4483; WISCONSIN (registration #16863 - 800) -- contact ActBlue Civics. Registration with and reporting to these agencies does not imply endorsement, approval, or recommendation of ActBlue Civics.
I am at least eighteen years old.
This contribution is made from my own funds or the funds of an authorizing corporation or other entity, and the funds are not being provided by any other person or entity.
Your contribution will benefit Indivisible Project, a 501(c)(4) social welfare organization. Contributions or gifts to Indivisible Project are not deductible for federal income tax purposes as charitable contributions. No donations are designated for any specific political candidate or race.