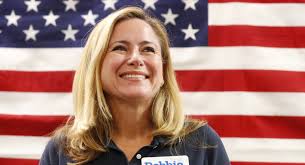 September 22, 2019
5-6:30 PM
50 Crowninshield Road
Brookline MA
​
Debbie Mucarsel-Powell immigrated to the United States from Ecuador, as a young girl with her single mother. She went on to earn her undergraduate degree from Pitzer College and a master's degree in international political economics from Claremont College. 
Debbie then dedicated more than twenty years to her work as an executive in non-profit organizations, improving access to healthcare, protecting the environment, and increasing educational opportunities in South Florida.
In 2018 she was endorsed by
Emily's List, Planned Parenthood and
End Citizens United and defeated the Republican incumbent .
Debbie is now a member of the House Judiciary, Housing and Infrastructure Committees as well as the Congressional Hispanic, Gun Violence, Progressive and Womens' caucuses.
​