CANCELLED ----------Galveston County Democratic Party Hosts Dinner with Gilberto Hinojosa CANCELLED -----------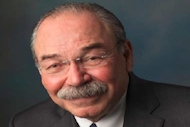 CANCELLED 
Due to unfortunate circumstances, the host can no longer support this event.
If you'd still like to donate to the GCDP, you may.
Contribution rules
I am a U.S. citizen or lawfully admitted permanent resident (i.e., green card holder).
This contribution is made from my own funds, and funds are not being provided to me by another person or entity for the purpose of making this contribution.
I am making this contribution with my own personal credit card and not with a corporate or business credit card or a card issued to another person.
I am at least eighteen years old.
Your contributions in support of state entities in Texas are made to ActBlue Texas, a state political committee, and do not constitute earmarked contributions. Final responsibility for distribution of these funds lies with ActBlue Texas's governing board.
------------------------------------ Paid for by: Galveston County Democratic Party P.O. Box 756 Friendswood, TX 77549-0756 Not authorized by any candidate or candidate's committee.