Democrat Andrew Gillum is still in the race for Florida governor!
Gillum had conceded election night, but then the votes kept coming in, and the margin between Gillum and his pro-Trump challenger, Ron DeSantis, kept narrowing.
With 100% of the votes now counted, DeSantis is only ahead by 0.4 percentage points, or 33,684 votes out of 8.2 million cast. In Florida, that means an automatic recount. So Gillum revoked his concession, and the race goes on.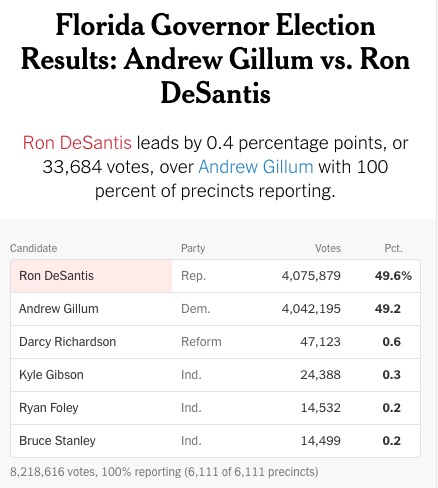 Donald Trump is of course freaking out, and he should be. Election night was a disaster for Trump, losing the House and so many state legislatures. But now, as every day goes on, the Republicans are losing more and more too-close-to-call races.
Fighting this battle takes money, so please keep donating to Andrew Gillum's campaign, and let's make sure every vote is counted.
PS Forward Florida is the group collecting donations for Gillum.