The Rose Caucus is a coalition of down-ballot leftist candidates committed to grassroots organizing and building socialist electoral power.
United under The People's Platform, these democratic socialists and socialists have a unified policy vision and will not compromise on their principles. Additionally, the members of the Rose Caucus all endorse Bernie Sanders.
These candidates for House, Senate, and state-level races recognize that typical politicians are beholden to Capital and the establishment, and will instead only answer to working people.
The Rose Caucus is not a PAC; you are donating directly to these candidates. Please help these leftists transform this country.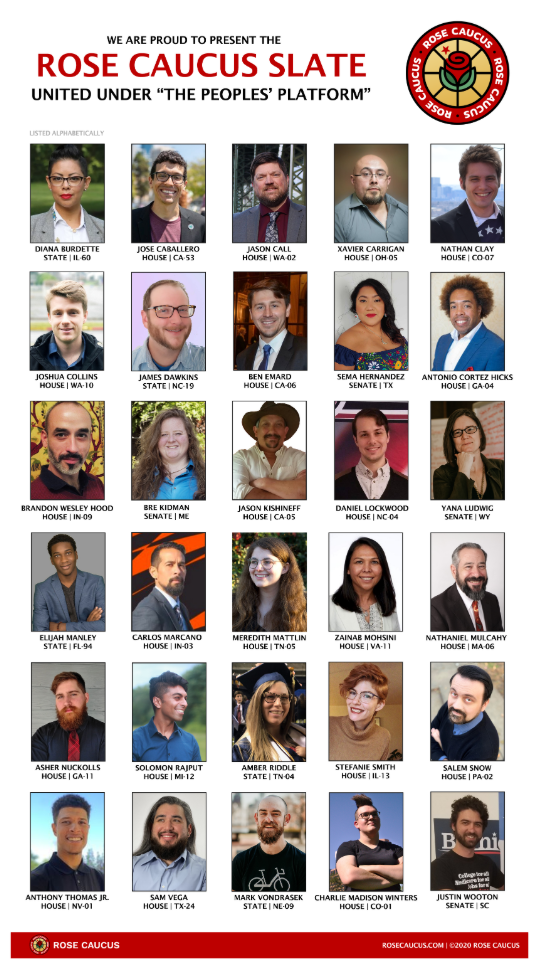 Wondering if there's a member of the Rose Caucus running for office near you? You can find out via this Google Map: https://www.google.com/maps/d/u/1/viewer?mid=1Owso3cHxZ0FlLg1N6UWI_dZ8kjo11luY&ll=38.791657871642094%2C-96.08125369904099&z=5
And you can learn more about the Rose Caucus on their website: https://www.rosecaucus.com/
Note: If your overall contribution to this form would make you exceed any particular recipient's donation limit, the surplus will be automatically distributed to the other recipients.